6 Ways to Maximise Space Under Your Kitchen Sink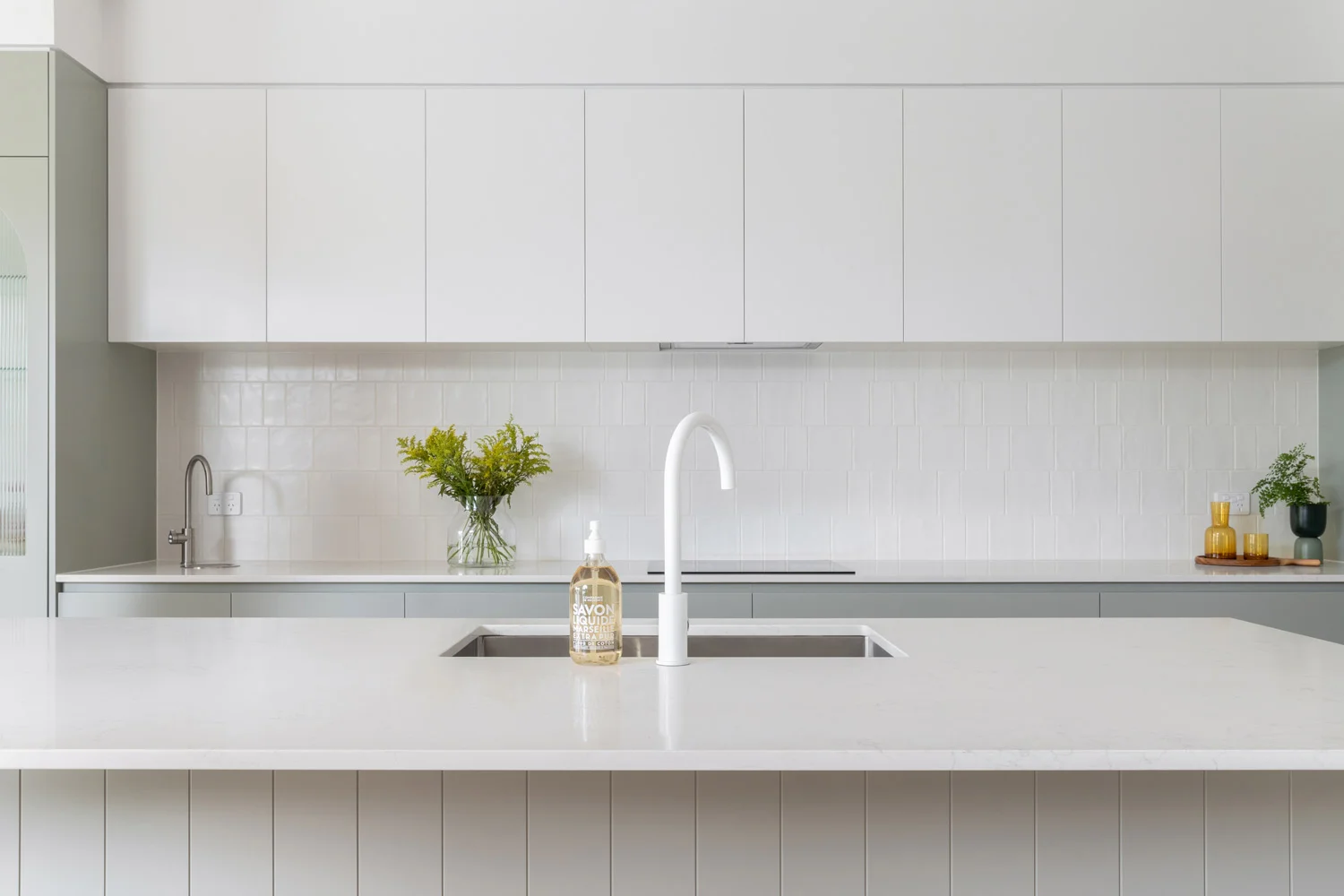 The kitchen is the heart of the home — a place where meals and stories are most often shared. However, being the central hub can come with some additional stress. While trying to keep your kitchen in working order, your sink can quickly get neglected — especially the space underneath it, as this is traditionally where kitchen cleaning items are kept.
From conventional to creative, we've gathered our favourite under-the-sink storage ideas to organise your kitchen and promote balance in your space and mind.
Step 1: Organise Your Kitchen Sink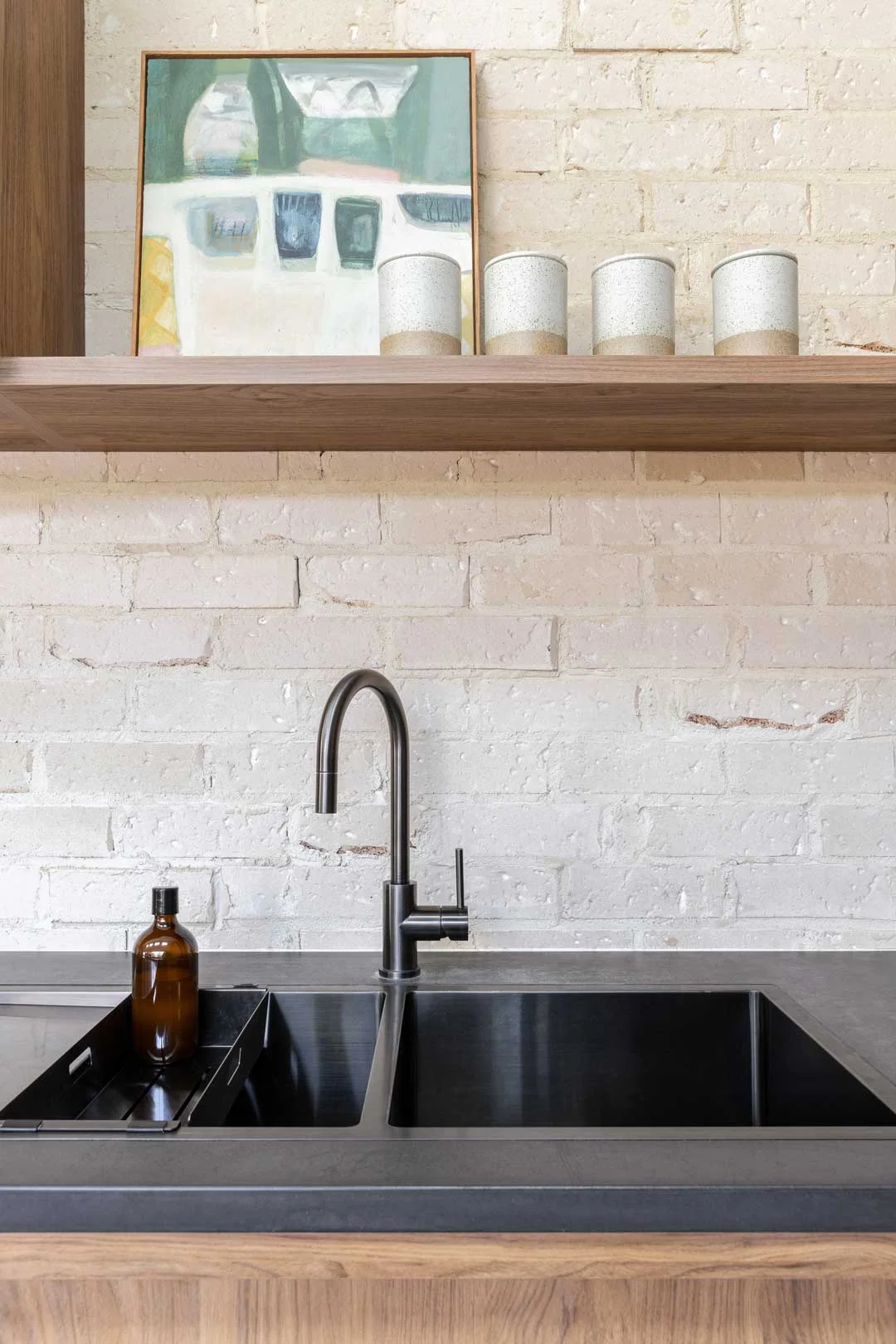 Before tackling the under-sink storage, start organising by prioritising the area above with some practical kitchen sink ideas so that all your essential items are above the sink.
To start, if you have dish soap, brushes, or sponges that you'd like to keep conveniently accessible, consider using a colander placed in your sink to store them. This setup ensures proper drainage and keeps these items within easy reach of your washing activities.
Alternatively, if you'd rather not have these items inside the sink, install a shelf nearby to keep your supplies off the counter. This will create extra counter space, and you can even opt for a versatile solution like our Maya Shower Caddy, which allows you to add hooks underneath for hanging brushes and cloths.
If you keep extra pots and pans, or even tea towels beneath the sink, create extra space by affixing a single towel rail beneath your kitchen cabinets to drape cloths and hang pots with hooks, much like how they do in large commercial kitchens. This approach is both functional and visually appealing.
This is also a great time to inspect your tapware's and sink's integrity to ensure you don't need any maintenance or restoration. If you already have our Elysian Kitchen Mixer, consider the Commercial Pull-Out Spray Attachment to ensure washing up is as efficient as possible.
Step 2: Clear Out Under Your Kitchen Sink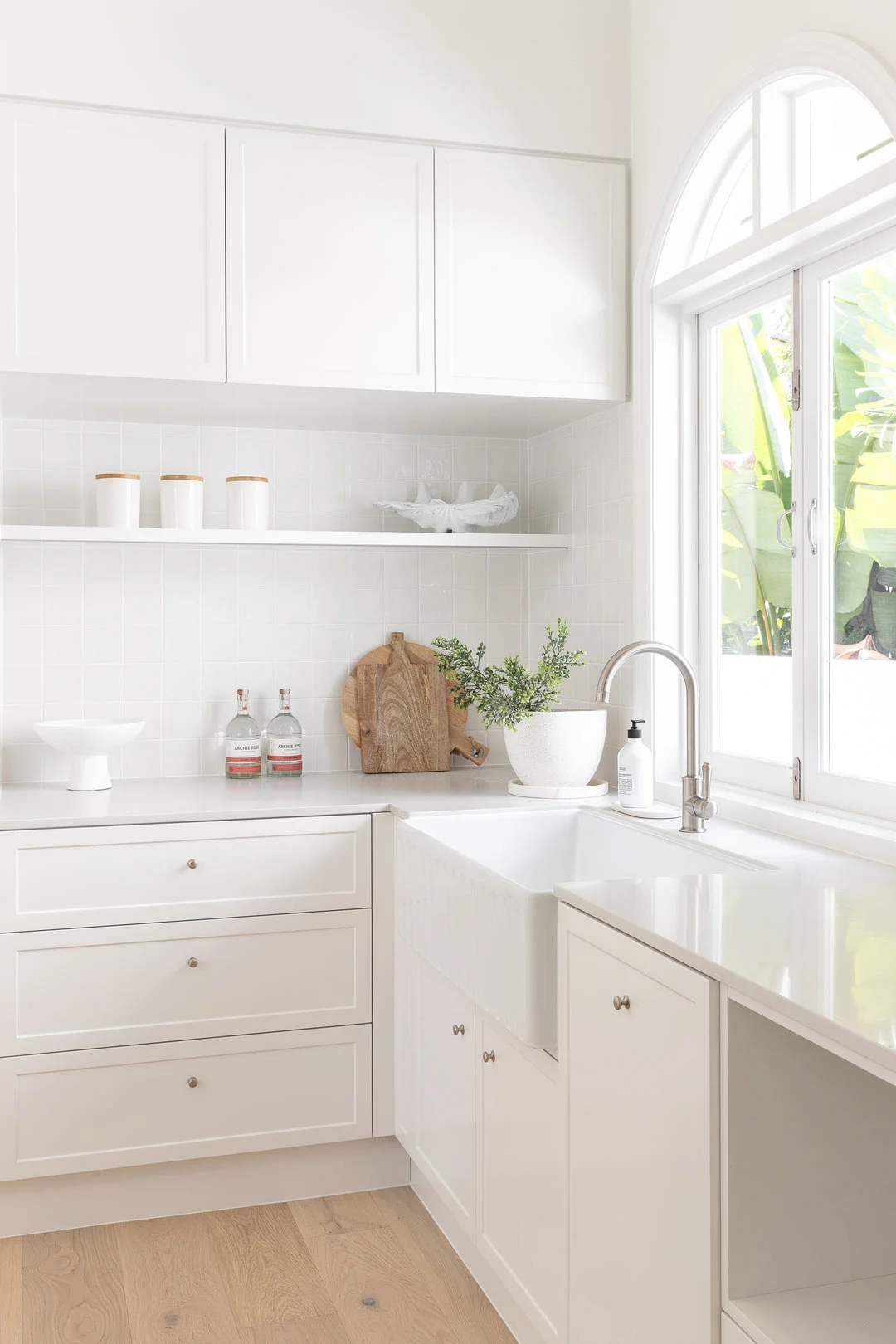 Before buying or building some under-sink storage for your kitchen, take all your current items out to see what you're working with. This is the perfect opportunity to do a stocktake of unnecessary or expired items to discard and combine half-empty boxes of identical items such as gloves or dishwashing tabs.
Thoroughly clean your cabinet, vacuum any stray dishwashing powder, and wipe up spills. Then, determine the needs of the items you'll be storing — it would be helpful to take note of their quantity, height, and width.
Finally, measure the space under the sink while considering any pipes' location. This is essential to give you the correct dimensions for your under-sink storage.
Once your space is clean and measured, follow the steps below to create the ultimate under-sink storage area.
Step 3: Spray Bottle Storage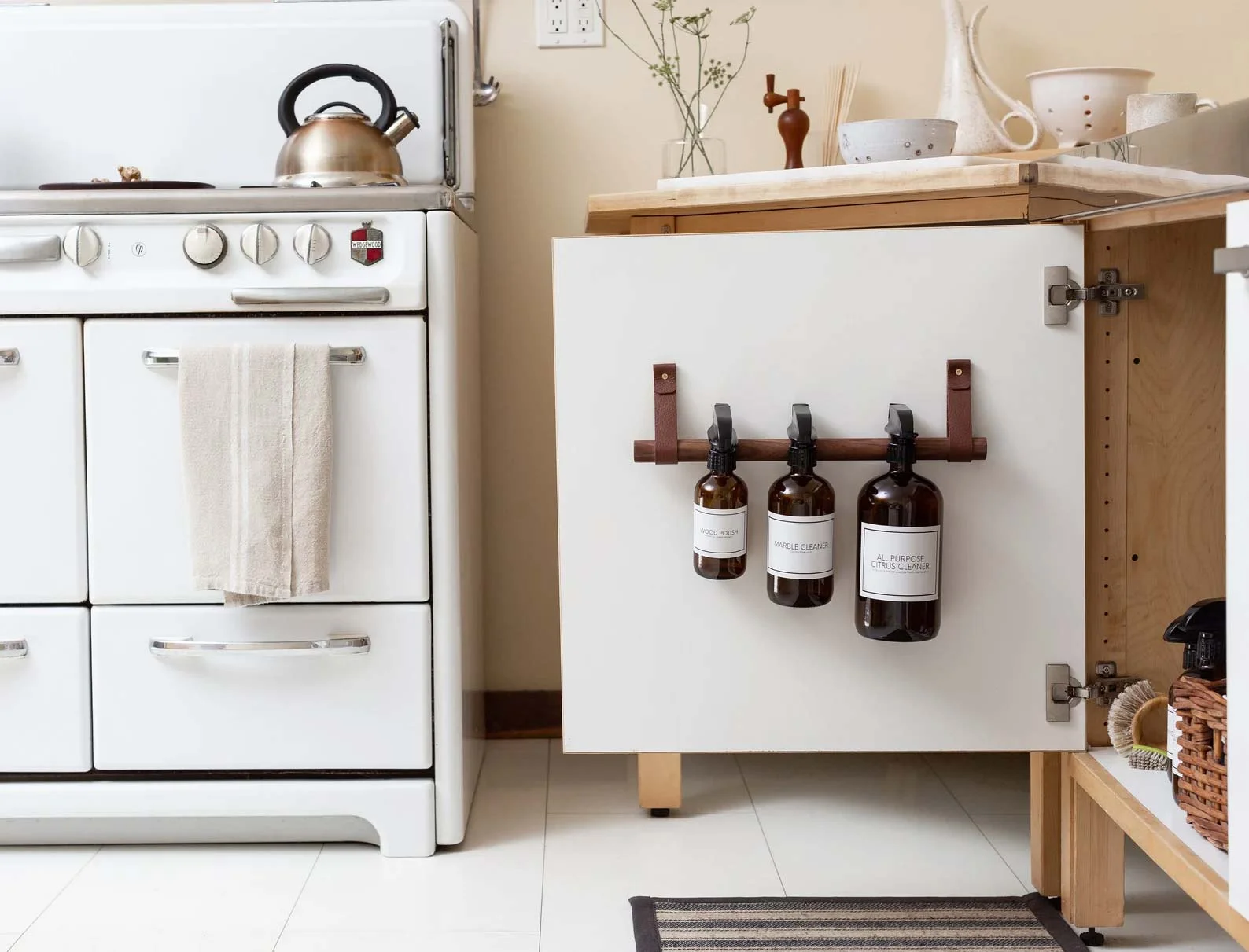 Reaching into the depths of your cupboard can be frustrating, especially when you knock everything over before getting to the product you need.
A turntable, or 'Lazy Susan', is one of the best under-the-sink storage ideas for cleaning supplies. Simply place your bottles on top, then rotate them quickly to grab exactly what you're after.
If you don't have enough space for a Lazy Susan, add tension rods across the top of the cupboard or a small hand towel holder along the inside of the cupboard door to hang your spray bottles by the handle. This maximises the space below for larger, heavier items or shelves.
Step 4: Utilise Containers/Baskets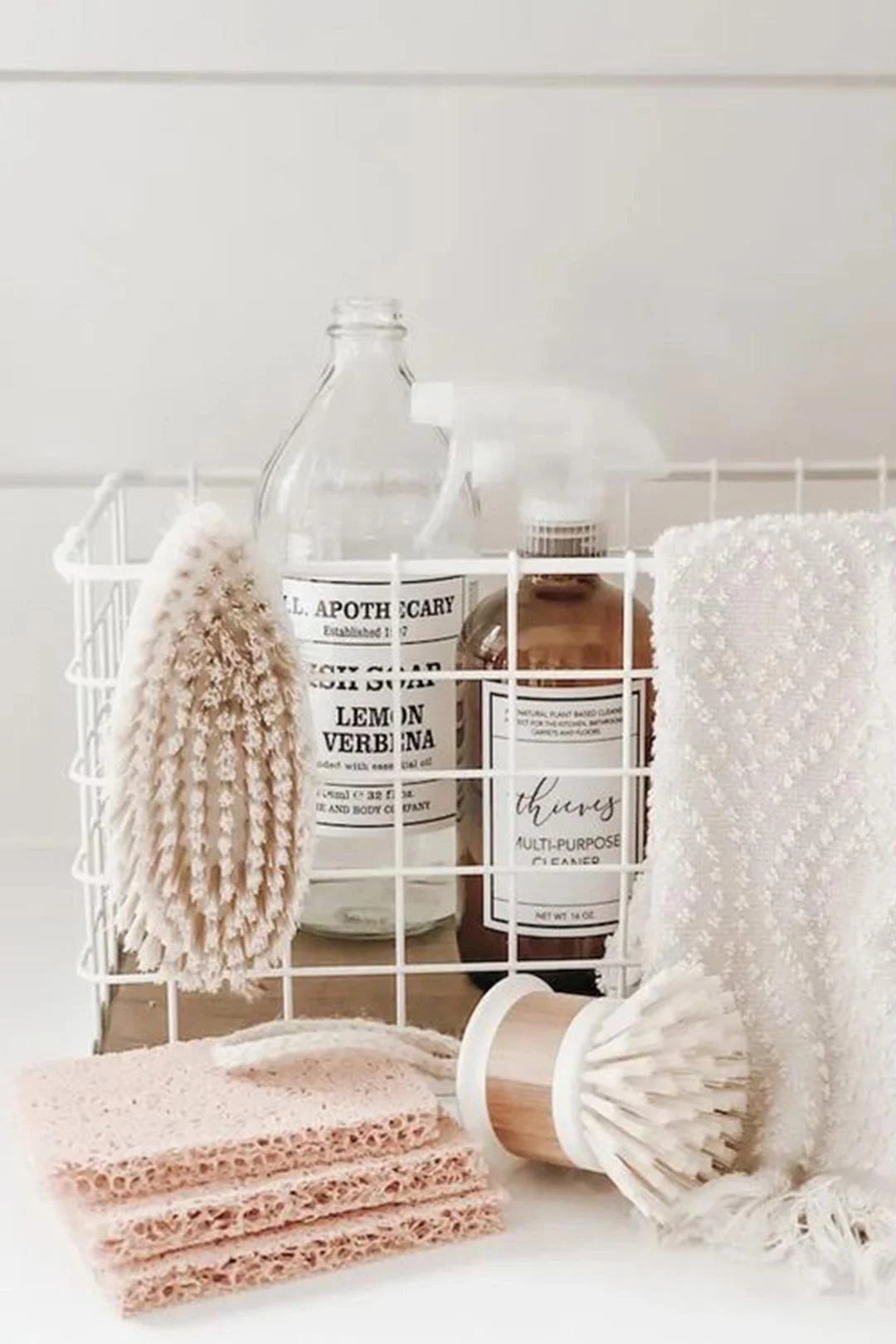 Plastic containers or baskets offer exceptional versatility and affordability regarding under-the-sink storage ideas. Their open tops allow you to accommodate cleaning supplies of various heights and sizes easily.
Alternatively, you can stack plastic containers or use drawers to store smaller items like dishwashing tablets, extra scrubbing cloths, or spare scrubbing stick heads. This keeps these items organised and compact and allows you to quickly see when they are running low. Under-sink drawers are also ideal for neatly storing reusable bags, making them easy to grab when heading to the grocery store.
Whether you opt for plastic, woven, or glass jars, baskets and drawers are readily available in various dimensions, so you can squeeze them in beneath your sink no matter how much space you're working with. Just be sure to exercise caution when using natural fibres and prevent them from getting wet, as they can develop mould when stored in a dark cupboard.
Step 5: Label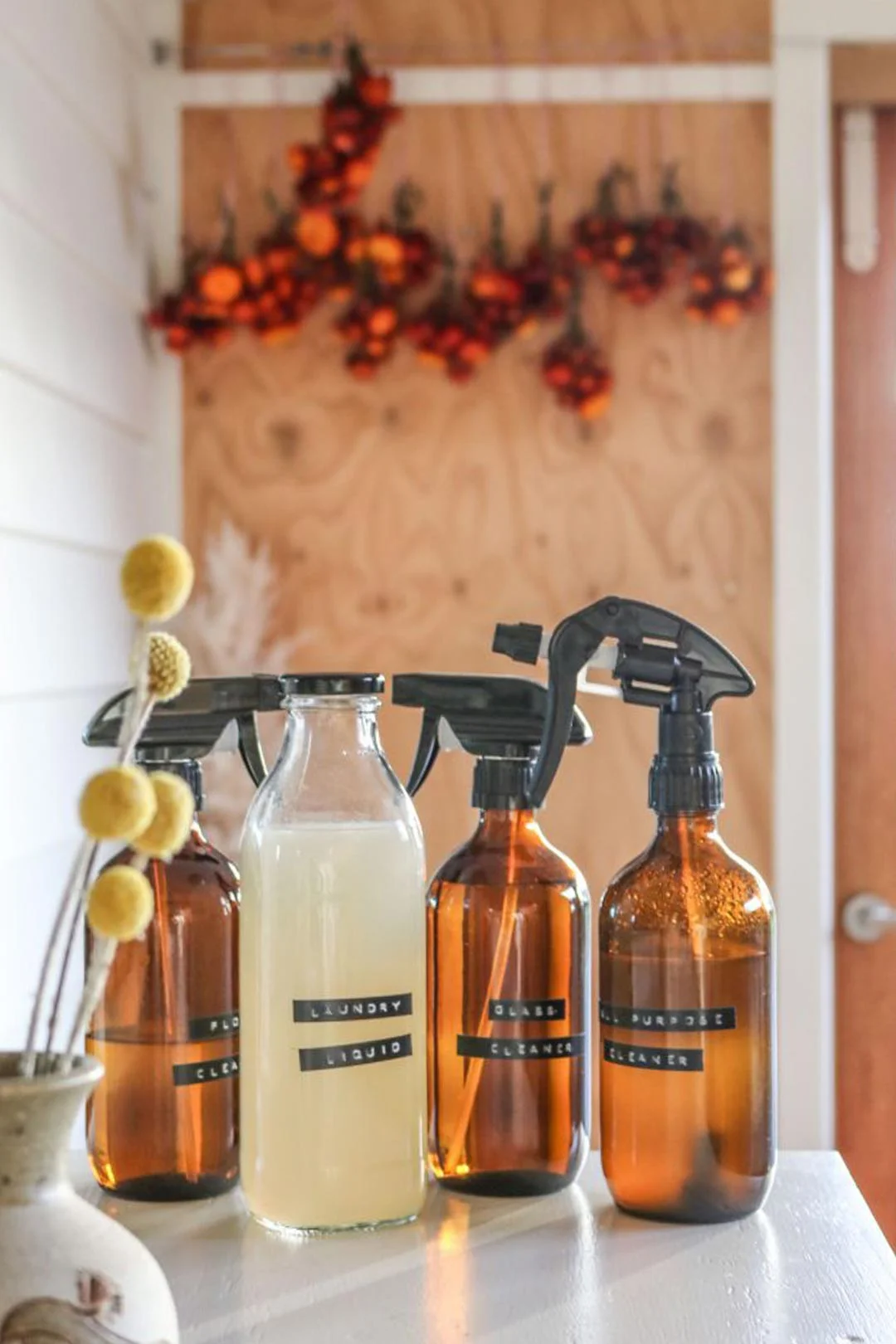 Plastic or glass containers are excellent for organising everyday items under the sink. Nevertheless, in a household with multiple occupants, it's easy for things to end up in the wrong place if their contents aren't clearly understood. To resolve this issue, labelling containers or baskets with their contents is a simple and effective solution, ensuring that everyone knows where things belong.
You can also take it a step further by carefully transferring liquid products like dishwashing liquid or hand soap into eco-friendly glass bottles that are clearly labelled. This way, you only need to refill them with eco-friendly options instead of purchasing new bottles each time.
Step 6: Tidy Up Your Rubbish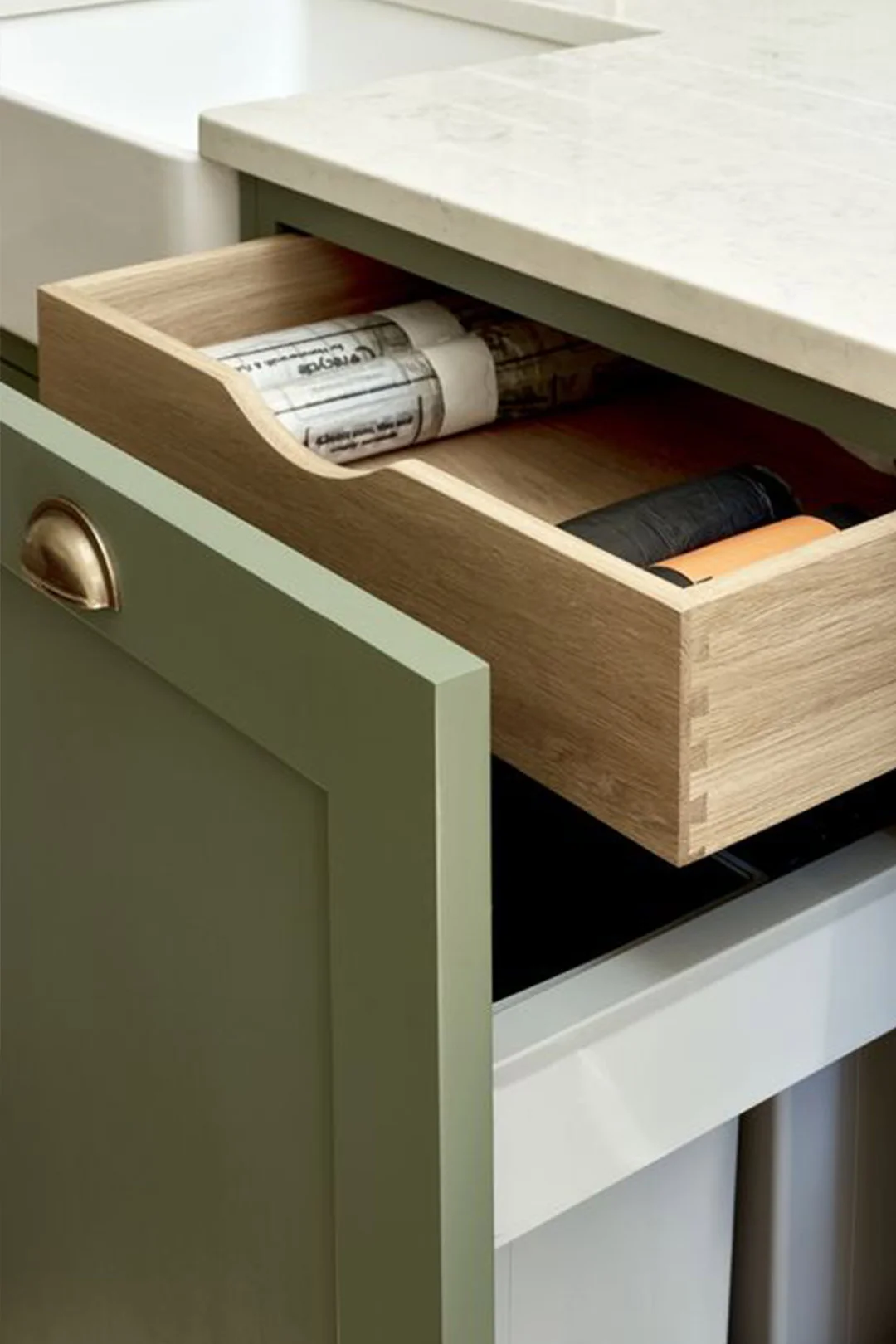 If your rubbish bin lives under the kitchen sink, it makes sense to also store garbage bags nearby to make taking out the trash a seamless process. However, depending on the size of your bin, these bag rolls take up quite a bit of space in your cupboard and can be a pain to tear off.
This is where a paper towel holder can be surprisingly versatile. Install one of these inside your cabinet to give your garbage bag rolls a more convenient place to live — it'll also keep valuable space accessible within the cupboard for more oversized items and baskets.
Another method to organise your garbage under the kitchen sink is to mount your bin on a gliding base. It can then be effortlessly pulled out whenever needed, keeping the area much cleaner and reducing the risk of unruly aim.
6. Adhesive Lights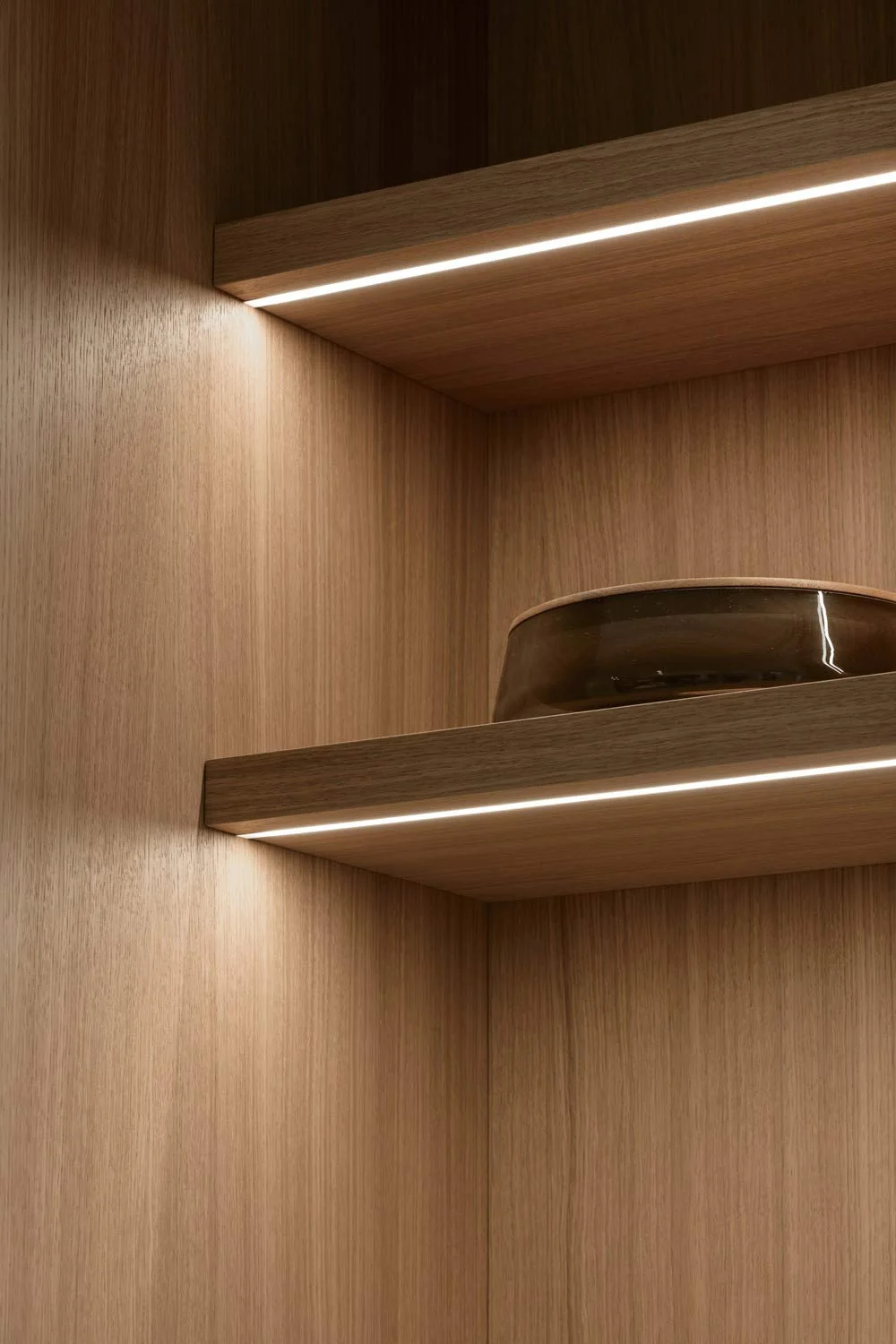 Now that you've managed to organise under the kitchen sink, you may realise it's difficult for your kitchen lighting to reach all corners of your cabinets. Add an LED adhesive strip along the top edges to illuminate the space so you can see everything on hand clearly. These strips are also available in removable formats that are suitable for renters.
Aside from these organisation ideas, be cautious of potentially harmful chemicals, keeping them towards the back of your cupboard away from the reach of children or pets.
If you're ready to declutter the next area of your home, check out our 6 Simple Vanity Storage Ideas.