15 Tiny Ensuite Ideas to Encourage Spaciousness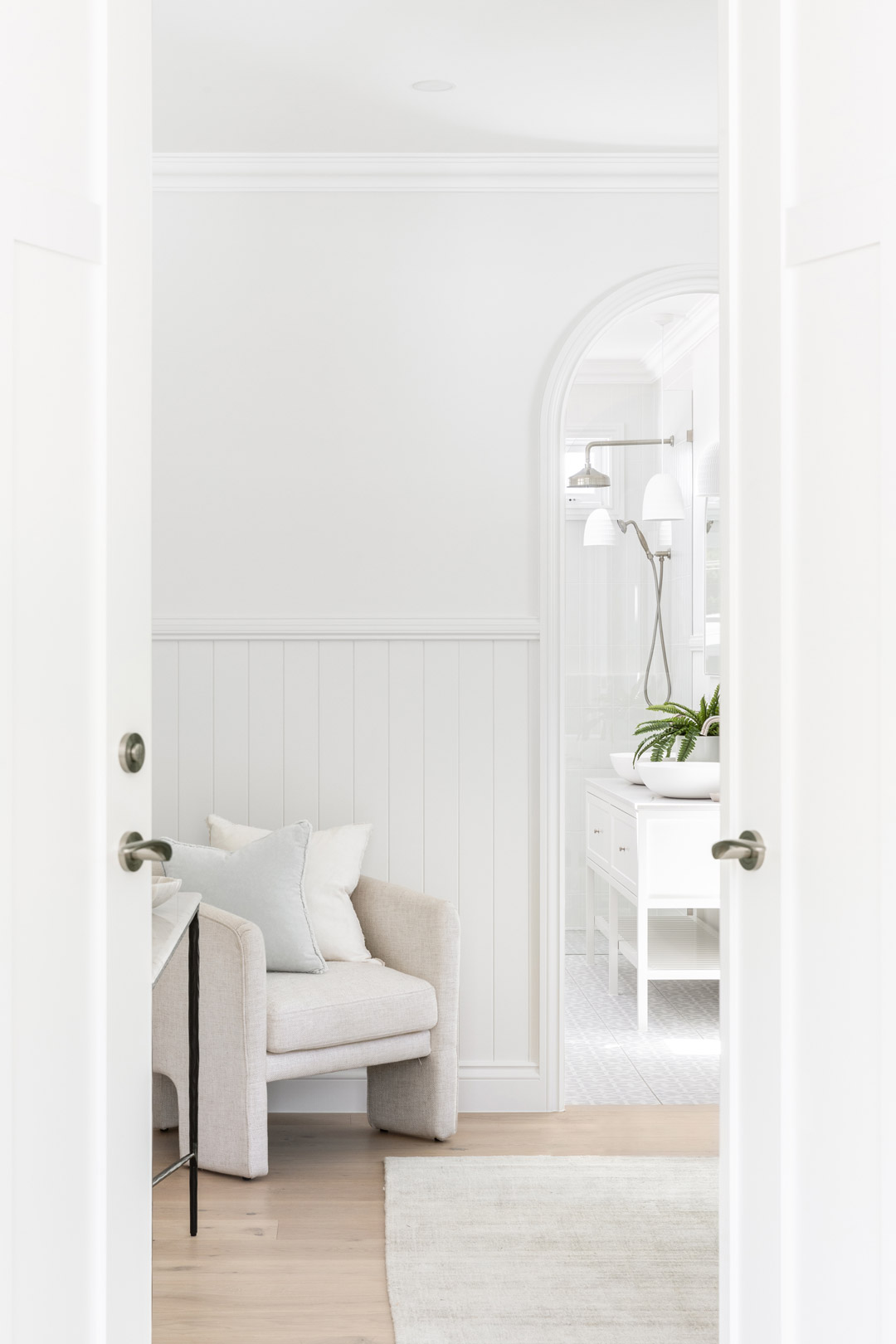 Small ensuite bathrooms need space-saving ideas to make them feel larger than life. Your ensuite is a mighty workhorse that blends functionality and respite in a compact area. It deserves the same amount of care and attention to detail as any other space in your home. 
In this blog, we want to work around the limitations of smaller dimensions and offer new perspectives to bring openness and spaciousness into your day-to-day routine. Whether you're building a new one or looking to revamp your existing one — here are 15 tiny ensuites ideas to give you renewed inspiration. 
1. Use Space Better With a Sliding Door 

One of the best tiny ensuite ideas to immediately create more room is by opting for a sliding door in your design. This is because they slide flush over a wall, or in a cavity, and don't fan out across your floor space. They are also simple to use and won't slam shut in windy conditions. Please note that sliding doors don't use traditional handles and require cavity-style pulls. 
2. Go Mini to Maximise Room

A small ensuite idea that both plays with scale and saves space is mini-sized fixtures in your space. Selecting tapware that is suited to the size of your ensuite is paramount to ensuring that it feels balanced and proportionate. Suggested fixtures that take up less visual space include mini basins, spouts, and towel rails. 
3. Brighten With Natural Light 

Spaces that are flooded with sunshine naturally feel airy, open, and more spacious. Ensuring that your design has adequate windows or skylights for the day to enter means that light can shine off the walls to feel positively uplifting. While natural light is important in any structure, it's a beneficial small ensuite bathroom idea that prevents the risk of feeling cramped regardless of floor size. 
Here are more techniques for optimising natural light in your home.
4. Reflect Your Style With Mirrors

Need an instant solution to create more volume in your tiny ensuite? Try a smartly-placed wall mirror. To maximise the effect of this tiny ensuite idea, aim to have the mirror near a light source — opposite a window or in front of a lamp or candle. Mirrors already double your room's dimensions visually, but when in conjunction with light, emphasise brightness to further illuminate any dark corners. 
5. The Shower Is Your Power 

A shower is a necessity in any-sized bathroom but is the first, and sometimes only, choice for smaller spaces. An idea to maximise available floor space would be to have your shower on one end and the vanity on the other. It gives ample room to move around between each station. Some other small ensuite shower room ideas would be to include shower shelves or soap bottle holders to create clear areas for products to be stored. 
6. Opt for Built-In Bath Over Freestanding

Though if you do want a bath in your space, we suggest choosing a built-in. As this fixture is installed flush with the wall, it doesn't leave unused space around it or take up central floorspace as a freestanding does. Depending on rim size, a built-in ensuite bath in a small space can also offer extra storage for products — which may reduce your need for additional holding areas. 
Read an in-depth analysis of the best bath choices for different needs. 
7. Glass Shower Doors to Lengthen Limits

Glass shower doors keep your ensuite feeling open without water spraying throughout the space. As glass is a transparent medium, it doesn't visually block off areas to limit the feeling of roominess. If this tiny ensuite idea feels a bit too exposed for you, try textured glass options such as reeded or frosted. These minimise clarity without becoming opaque to keep your bathroom's dimensions visible. 
8. Floating Vanity to Lift and Liven

Creating the feeling of spaciousness is about selecting clever fixtures that can make a room feel light. A floating vanity is the perfect example of that. This ensuite bathroom idea sees a vanity mounted to the wall, suspended about the floor. Having space underneath can give the room an illusion of largeness as more of your floor is shown. If your ceilings are particularly low, it might be better to have a floor-mounted vanity or pedestal basin instead.
9. Vertical Art to Elongate Lines
Image via Architectural Digest | Photographed by Kris Tamburello
Have you been figuring out where to place your small bathroom wall art? A vertical formation would be best. This small ensuite idea is akin to the logic of vertical stripes in fashion to make yourself appear taller. The eye is given a pathway to follow, and straight up and down accentuates the peak of your bathroom. To gain an immediate sense of height, place it on the wall opposite the entryway so the focal point is recognised as soon as you step through the door. 
Do you need tips on hanging art in the rest of your home? Try a gallery wall.
10. Recessed Niches for Smart Storage

Whether in your shower or near your vanity, this tiny ensuite idea avoids wall protrusions by having recessing alcoves. The fewer objects are in your spatial field, the less cluttered it feels. In some instances, items that are contained in a recessed niche can't be seen at certain angles — depending on depth. Recessed niches are a design feature that needs to be planned before construction or a major renovation. 
11. Robe Hooks for Less Hang-Ups

Get granular with minimalism by trying out this simple compact ensuite idea: robe hooks. Towel rails have been a long-standing favourite, but since your space is already on the smaller side, a hook is a much more practical alternative. Since their size is a fraction of their counterpart, they offer more freedom to be placed where you need. You can even make the most of the often unused space behind the door. 
12. Accentuate Interior Lighting for Dimension

Creative lighting can make your tiny ensuite feel larger than life — but it's important not to overdo it. A general guideline is to illuminate your main focal points, such as downlights over the shower, LED lighting around mirrors and cabinets, or centralising pendant lights to brighten the overall area. Ensuites have dual responsibilities — they're a functional hub for cleanliness and a calming private sanctuary. Our suggestion is to keep lighting tones warm yet bright, so you can achieve your daily tasks with a welcoming atmosphere. 
13. Strategically Colour Your Ensuite

To create a feeling of spaciousness, your colour palette is crucial for achieving that in the bigger picture. Though, it's important to define the style you want in your ensuite beforehand. Light tones are generally accepted to make a room feel limitless, but if you're a lover of dark tones, it doesn't mean you need to ditch your design ambitions. Dark colours, especially when used monochromatically, can still achieve a feeling of boundlessness. Another trick is having a dark feature wall to make the room feel like it's receding — creating an illusion of spaciousness. 
14. Decor With a Functional Edge

Decor is the creative touch that expresses your personality, but a small bathroom may initially feel limiting when approaching the topic. It's important to have the absolute necessities in a tiny ensuite, but you don't have to sacrifice your individual flourishes — just converge them with functionality. Small ensuite decor ideas that champion storage are a smart first step in the right direction. Think rustic ladders for hanging towels, bespoke toothbrush holders, or decorative rubbish bins. 
15. A Wet Room Design for Ultimate Freedom

A wet room is an open-plan, waterproofed space that contains multiple fixtures, typically a shower, bath, or toilet. It's clear to see why it's an optimal tiny ensuite idea, as it is a boundaryless domain that contains all your typical bathroom needs. In a smaller space, you may not be able to have all the fixtures aforementioned, but you can keep the most important ones you want in that space. If you prefer those domains segmented, place a partial glass wall in between to still fulfil the small wet room idea. 
Love finding new ways to create room in your home? It's time to move to the kitchen and organise the space under your sink.