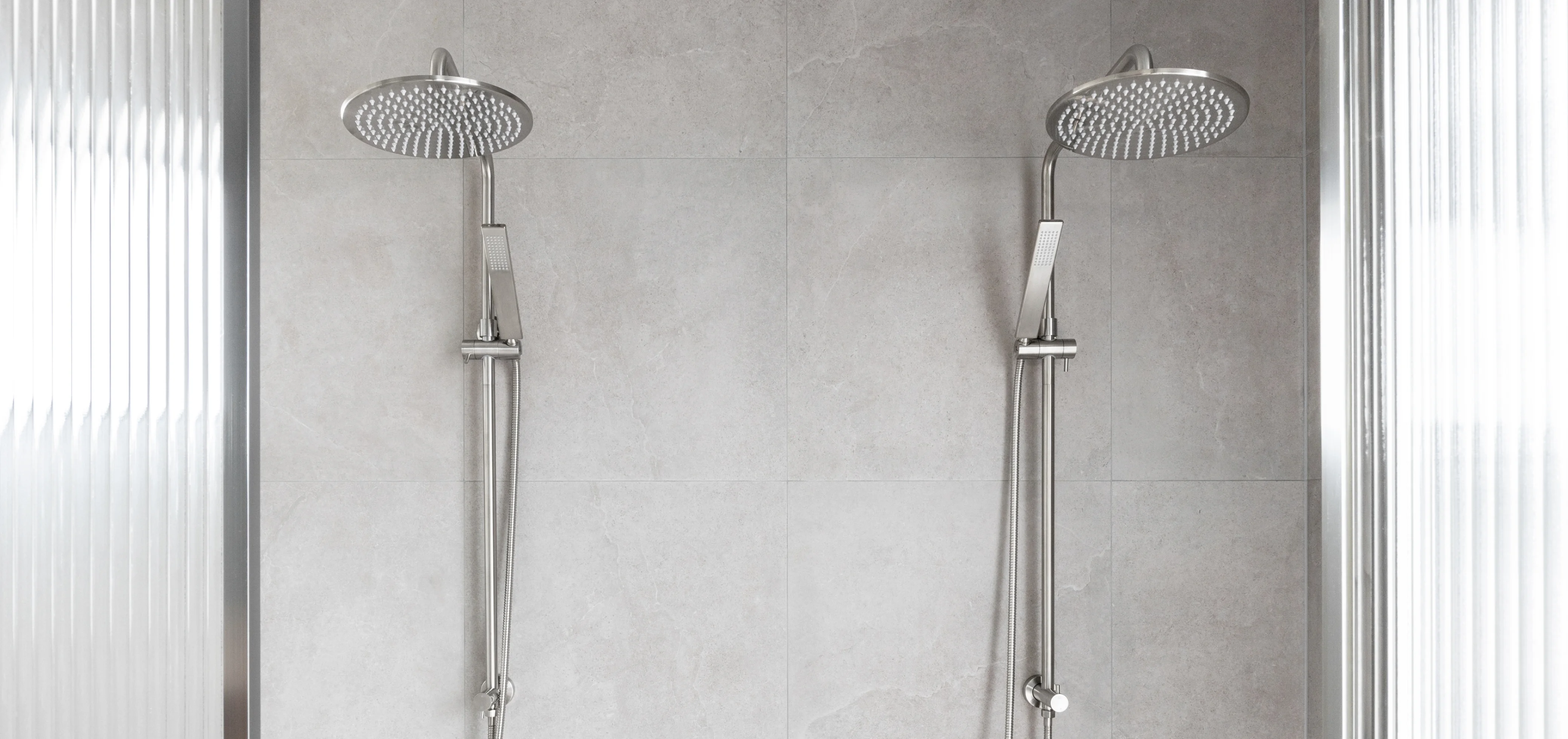 When choosing the perfect combination for your shower, it's important to determine what your requirements and preferences may be. We offer a wide range of solutions to suit your individual needs and to assist in creating your dream shower space.
Shower Diverter
This component is used to divert the water flow between two water outlets (e.g. a rain shower head and handheld shower).


Please note: This is not required for our full shower rail set as the diverter is already included on the rail. An alternative to choosing a shower diverter is to have two separate mixers — one for each shower outlet (e.g. rain shower and handheld shower).
Shower Mixer or Assembly Tap Set (hot and cold set)
Mixers or assembly taps are required to operate your shower and provide control over the temperature and pressure of the water.


Please note: These components are only included on our thermostatic shower rail sets. You will still need to purchase a separate mixer or assembly taps set if you have a standard shower rail set.
Shower Arm or Dropper
The shower arm or dropper is used to connect your shower head to an internal water outlet. The shower arm is mounted on the wall, while a shower dropper is connected to the ceiling.
Hand Shower
Also known as the handheld shower, the hand shower unit attaches to the shower hose for flexibility and ease  of use.
Shower Hose
A shower hose is required when purchasing a handheld shower.
Shower BP
This is the water outlet fixture the shower hose connects to.
Hand Shower Holder and BP
This fixture holds the handheld shower firmly in place and is required to connect your water source to the shower hose. We currently offer fixed and adjustable options.
Shower Rail
A shower rail is mounted to the wall and provides an attachment for the handheld shower. This rail allows you to easily adjust the height and angle of your hand shower.
Rain Shower Head
A rain shower head is required to complete your shower look. This component connects to the shower arm or shower dropper.
All-In-One Thermostatic Shower Set
The All-In-One Thermostatic Shower Set streamlines the selection process by offering all of the required components. This includes a shower head, shower diverter, shower arm, hand shower, hand shower holder and BP, shower hose, and integrated mixer.
Discover Our Shower Options
We have a variety of configurations to suit different projects: