Guide to Creating Maximum Minimalist Bathrooms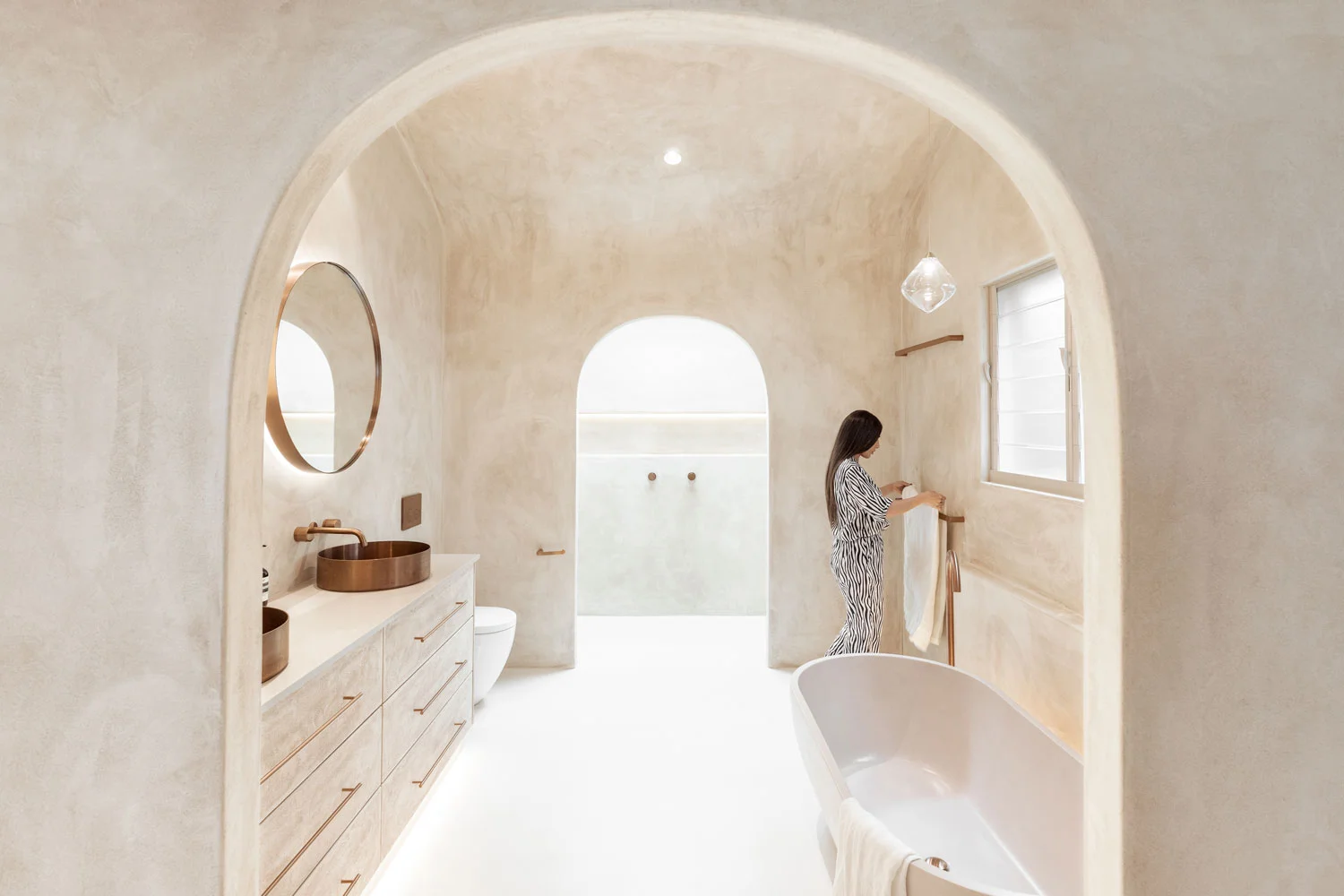 Have you ever noticed how relaxed you become after entering an aesthetically pleasing room devoid of clutter? Interior design can sometimes influence our psychological state of mind and our ability to stay focused.

Minimalism encourages this therapeutic state that finds comforting solace at home. Discovering the art of uncluttered living through techniques like hidden storage, seamless fixtures, and timeless finishes promotes a serene yet practical space.

Naturally, a thoughtful and considered approach to interior design is at the core of this tranquil transformation. We explore how to achieve this haven of positivity and accomplish a minimalist bathroom mindset that maximises functionality.
Minimal Bathroom Storage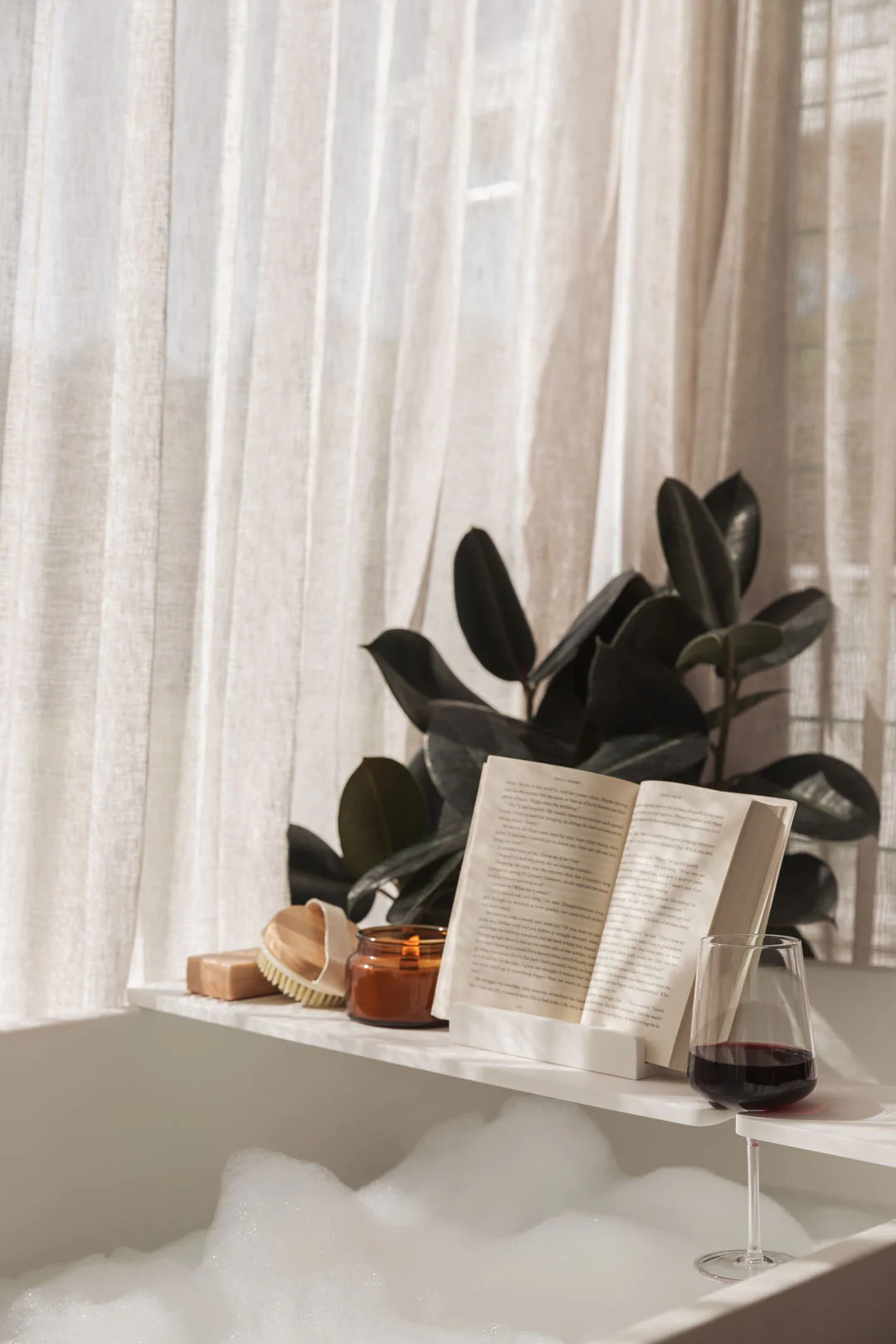 Bathrooms that conceal rather than reveal can contribute to the minimalist mindset. Tastefully chosen fixtures and fittings, surrounded by clean, clutter-free surfaces, can open the mind to therapeutic possibilities.

"Less is more: minimalist bathrooms thrive on simplicity," says Ayman Nazish, a content writer for Persimmon Design. "Start by removing unnecessary items, leaving only what's essential for a clean and uncluttered space. This fundamental principle sets the stage for minimalist design."

"The key to a minimalist bathroom design is organisation," adds Tina Nettlefold, creator and founder of T.House — an online platform that sells a philanthropic range of unique, limited-edition homewares.
"Select a few carefully curated decor pieces to showcase within the room, this will add a touch of character without overwhelming the space.
"Consider investing in stylish storage units such as a sleek vanity with drawers or wall-mounted cabinets. These will keep towels, toiletries, and cleaning supplies strategically concealed, contributing to a clutter-free and tidy environment."

One way to pair down your products is through minimal bathroom storage. Bathroom accessories encourage a clutter-free environment — consider sleek, understated bath and shower caddies that huddle essential items together for easy accessibility while contributing to the minimalist bathroom design aesthetic.
Hidden Shelving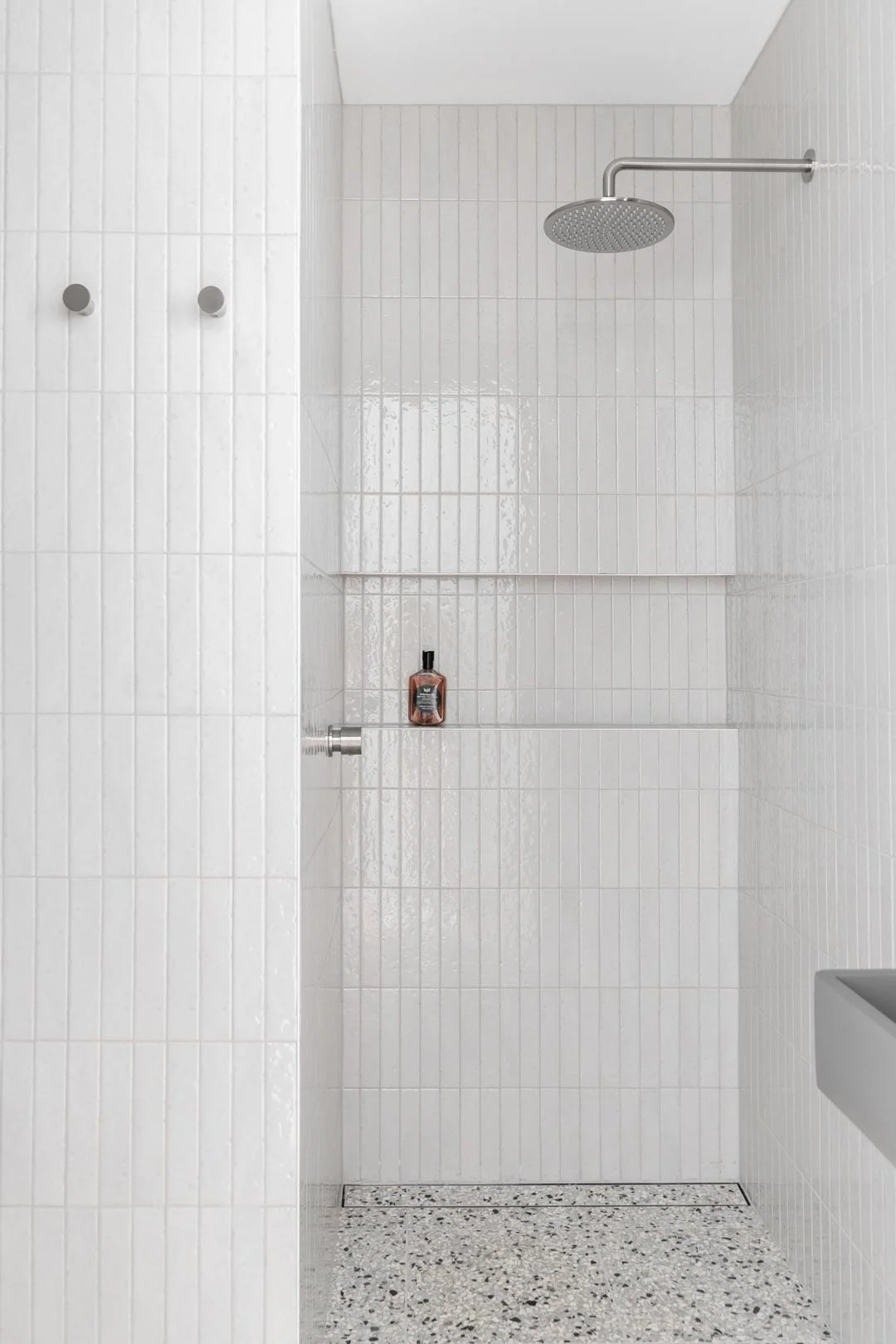 Also key to a minimalist but functional bathroom is to consider hidden and integrated storage solutions, such as fluted panels that conceal cupboards. With a gentle touch, clutter vanishes behind the doors, promoting a peaceful ambience that supports a minimal aesthetic.

"Incorporate concealed storage solutions, such as recessed shelves or built-in niches," says Ayman. "These discreet compartments keep toiletries and items out of sight while preserving the minimalist look."

"When it comes to designing the perfect minimalist bathroom, storage should be at the forefront of your considerations," adds Nettlefold. "A well-organised bathroom not only looks better but is a lot more functional."

Tina says storage is king for a minimalist aesthetic; however, you should be mindful of the practical and stylistic possibilities.

"When designing a minimalist bathroom, opt for items that serve both a functional and aesthetic purpose," she says. "Glass jars for cotton buds, marble trays for soaps, etc. These can also help to centre items and decrease clutter. I [also] recommend storing bathroom towels in a wicker or woven basket to create a luxurious spa-like appeal. Displaying them in a decorative manner will also add to the aesthetic — try rolling them up to create a tidy pyramid shape."

Incorporating some biophilic design will also help revitalise and literally add life to your space.

"[By] including some lush greenery in your bathroom, [you] can instantly refresh the space," Tina continues. "Try placing a bathroom-friendly fern such as a Zanzibar, peperomia or Boston fern. Otherwise, if you're more of a floral fan, you could opt for an orchid or peace lily."
Embrace Neutral Colours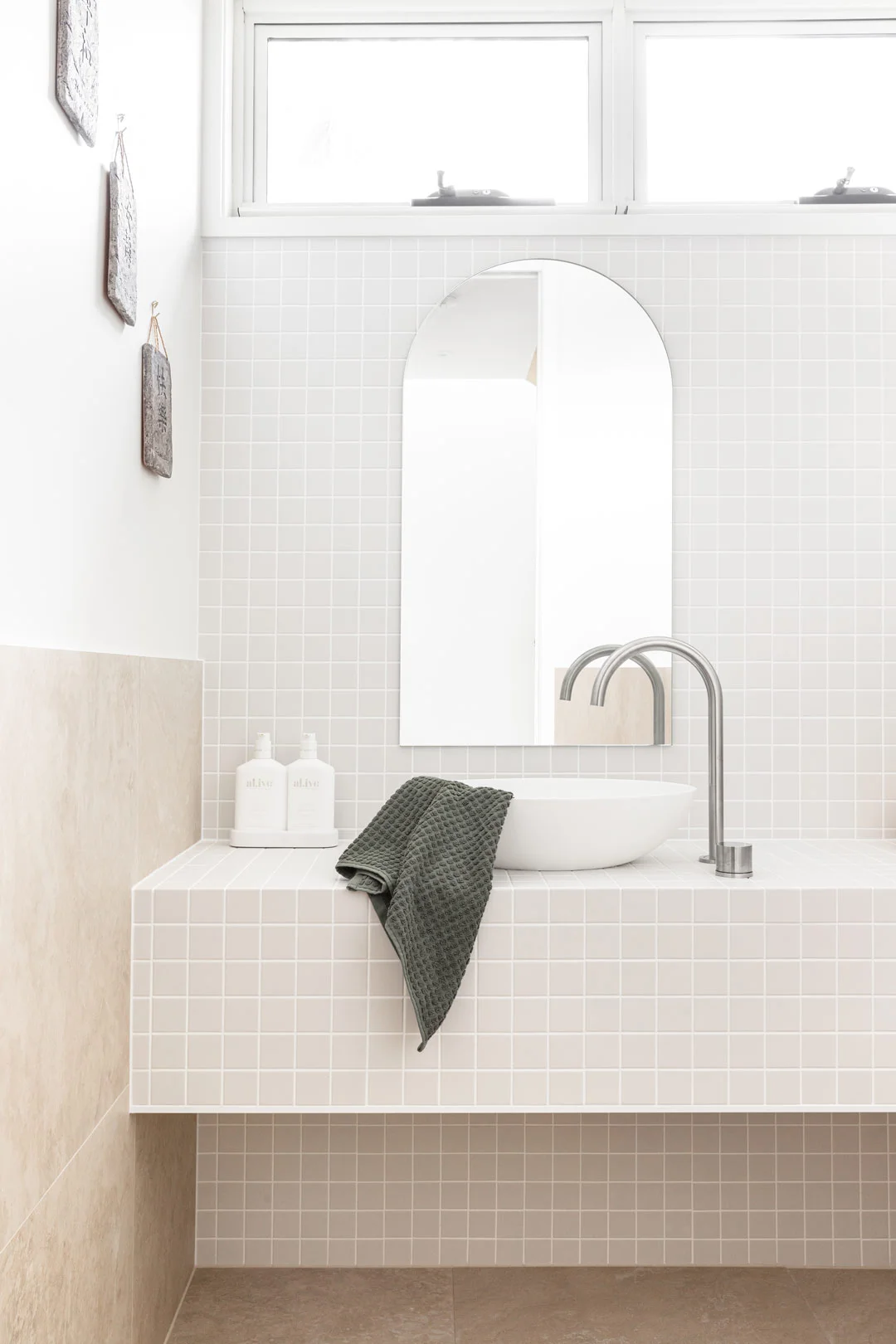 Bathrooms should be timeless sanctuaries. Therefore, embracing a neutral colour scheme is an excellent place to start, particularly when looking to achieve a minimalist bathroom design. Combining neutral colours with clean lines, stylish fixtures, and fittings encourages clear thinking to declutter the brain and ultimately settle and inspire the mind.
"Selecting neutral colours like whites, soft greys, and muted tones establishes a soothing ambience while making the bathroom seem more spacious," continues Ayman. "These shades also offer a timeless and elegant look."

Tina agrees that embracing soft tones will contribute to your space's overall sense of calm. She states, "Minimalism thrives on the principle of simplicity, so your colour palette should also represent this."
She also suggests that choosing earthy materials will help infuse a sense of luxury and warmth into a minimalist bathroom design.

"Natural elements such as stone, wood, and concrete will add texture, depth, and a touch of rustic charm, making it a more inviting space."
As Tina elaborates, another essential attribute is focusing on clean lines and functional design.

"Opt for simple, sleek, geometric shapes when choosing fixtures, hardware, and furnishings," she continues. "This will help to create a sense of balance in the room by reducing visual clutter."
Mirrors As Space-Enhancers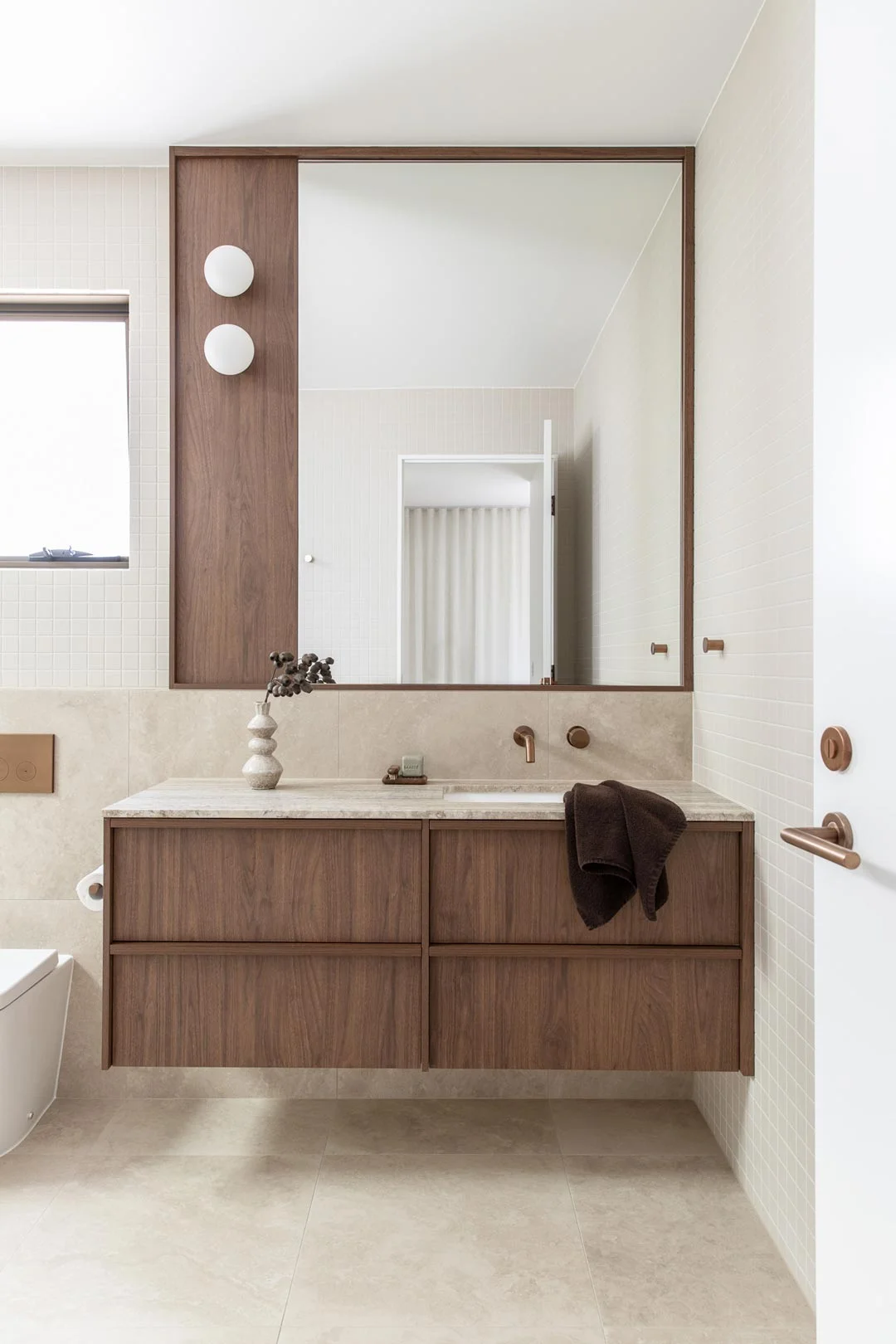 While your aim may be to minimise, you can also maximise your space by using the space-expanding potential of mirrors to give the illusion of a larger bathroom. Aesthetically enrich your minimal bathroom by installing a large mirror, maximising the illusion of more space while increasing its functionality.

"Installing a generously sized mirror or mirrored wall reflects light, adding depth and the illusion of a larger bathroom," says Ayman. "It's a classic minimalist trick that enhances both functionality and aesthetics."
Help with Achieving a Minimalist Bathroom